The fastest and most aerodynamic Aero-Tri-Road helmet in the world.
BESIDES SAVING LIVES AND BEINGFAST, WE ARE COMMITTED TO INNOVATOPN,STYLING AND COMFPRT: WEIGTH, HEAT MANAGEMENT, EASING THE ATHLETES STRAIN WHILE RIDING ARE PRIORITY.
The new Boost 01 is a true aerodynamic beauty, boasting unique and powerful functional design language.
Extremely well vented, it incorporates many technological advances to lower aero drag by 12% compared to traditional roal helmets, relocation the center of pressure point and reducing neck torque by 65%.
The Boost 01 offers a unique and removable shield interface for full wraparound visual protection, enhanced flow dynamics and atmospheric management minimizing eye strain; its intelligent magnetic flip-up system will ease the athlete when putting the helmet on, while cutting fog and maximizing cooling during long rides.
The Adaptable Air Control front vent cover can be easily removed for long distance or hot weather conditions, allowing massive front air intakes to cool the rider's head.
Based on our patented Vortex Killer System the Boost 01 pulls air rationally while accelerating heat transfer to cool the rider's head very efficiently, making it an exceptional and functional dynamic sculpture, unmistakably Rudy Project.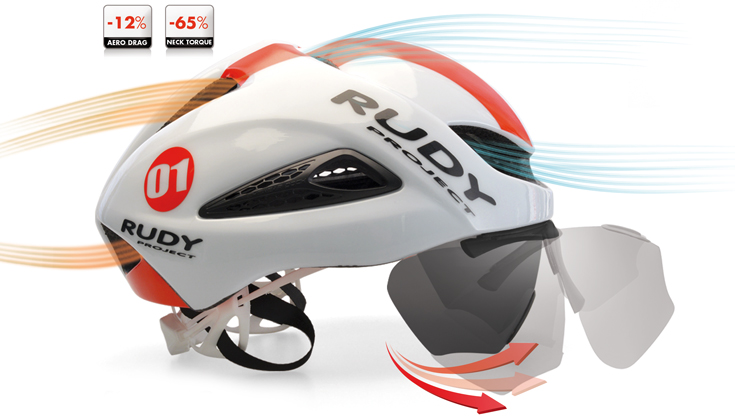 SUPERIOR VENTILATION
New internal air channels and the all new top vent help guide the air and further accelerate the air flow out of the rear of the helmet. This gives a large increase in aiding heat transfer from the rider's scalp, one of the major cooling zones of the human body.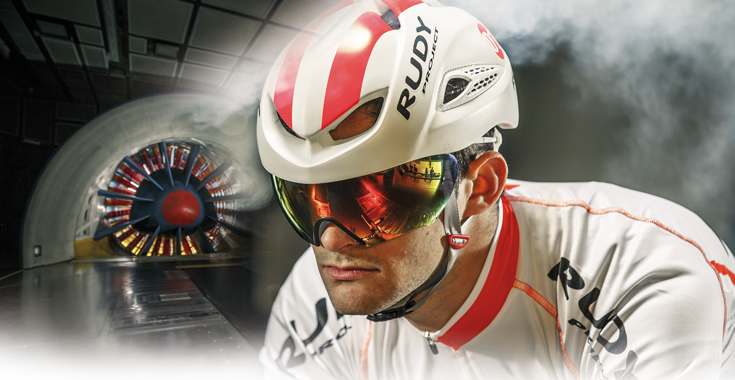 DYNAMIC PRESSURE POINT
Using parts of the patented Vortex Killer System, there are new specific high radius lower edges along the bottom of the helmet.
This links to the rear section which has new side scoops with specific NACA duct shaping, the Boost 01 is able to pull air around riders neck and off the shoulders for improved aerodynamics.
UNICERSAL DORSAL RIDGE
The refined dorsal ridge continues to help to convert sideways forces into a forward force. Thanks to the new lower and forward profile, it makes the Boost 01 to be more versatile in relation to the ever changing wind direction while almost eliminating the uncomfortable directional torque effect on the riders neck.
ZERO TORQUE
The directional torque is the natural reaction of a wing shape to self-align with the outside wind forces and it is the main cause of discomfort on riders neck especially over long distance races.
The Boost 01 offers more than a 12% aero drag reduction compared to a traditional road helmet along with a 65% reduction in neck torque.

RudyProject 空氣力學安全帽BOOST 01
除了保護生命及維持速度快外,Rudy更致力於創新、有造型、以及舒適度的開發: 重量及熱度的掌控,使運動員在領騎時更容易應變!
這新一代的Boost 01是一頂真正的空氣動力傑作,擁有獨特且強而有力的功能設計,十分良好的通風,它整合了許多的先進技術比傳統的公路車安全帽更降低了12%的風阻,重新放置壓力點的中心可減少65%頸部所承受的壓力!.Boost 01提供了一項獨特可拆換式的風鏡接口,是為了要能提供全方位的視覺保護,增強風速導流和降低大氣壓力,讓眼睛不易疲勞;它的智慧型磁鐵上掀式結構,將讓運動員不僅容易穿戴,同時在長途騎行時可以減少霧氣的發生及快速冷卻!可隨空氣操控的前通風孔板,對於長距離或是在任何天氣的條件下,更容易拆卸,並能讓更大量的空氣從這個通風孔進入,進而冷卻車手的頭部!基於我們的專利"渦輪殺手系統"讓這頂Boost01安全帽在抽風的同時能夠加速散熱,以冷卻車手的頭部,是非常有效的, RudyProject明白要讓這頂安全帽成為一個具有特殊性和功能性的動態雕塑品!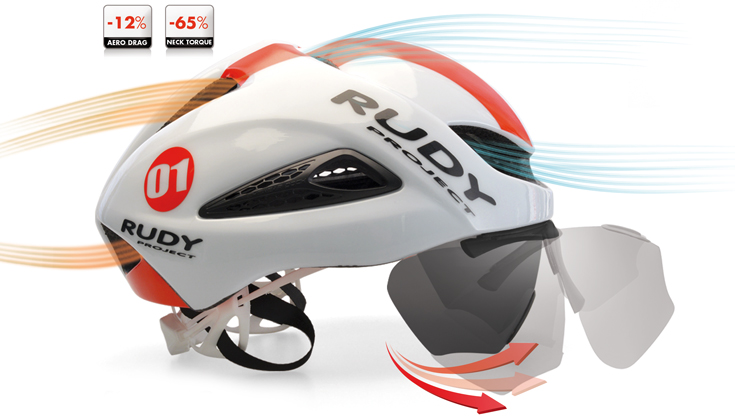 Superior Ventilation(優異的通風設計)
新的內部風道以及帽子頂部通風口的設計有利於引導空氣,更進一步加速氣流流至頭盔的後方;在輔助車手於人體的主要冷卻區之一,頭部的散熱上,給予非常大的提升!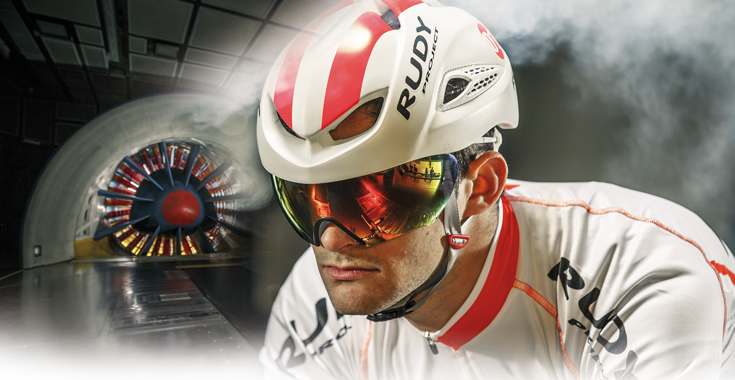 Dynamic Pressure Point(動態的壓力點)
使用專利"渦輪殺手系統"沿著帽子的底部有新的特定高半徑下邊緣.連結到後段區域地方有新的側邊凹洞,這是由NACA管成形的! 這頂Boost01能夠拉動車手頸部附近的氣流和避開肩膀上增加的空氣動力!
Universal dorsal ridge(萬能的背脊)
這精緻的背脊可協助側邊的力量轉換成一個前進的力量, 由於採用了新的較低和向前的外型,它使Boost01這頂帽子對於不斷改變的風向更加靈活,同時幾乎消除了對車手的脖子會造成不舒服的定向式轉矩效應。
Zero Torque(零轉矩)
這定向式的轉矩是一個翅膀形狀並與外部的風力排列對齊使成為一直線的自然反應,這也是造成車手頸部不適的主因,尤其是在長距離比賽時! The boost01提供超過12%以上的減少空氣阻力,與傳統的公路車頭盔比較在頸部的轉矩上也減少了65%的力量!